Στο επιχειρηματικό θαύμα του μυκονιάτικου Scorpios είναι αφιερωμένο το εξώφυλλο του περιοδικού GALA που κυκλοφορεί με το Πρώτο Θέμα της Κυριακής. Σύμφωνα με το ρεπορτάζ που έκανε ο Τελευταίος των Ρεπόρτερ Φρίξος Δρακοντίδης, οι Γερμανοί του Scorpios καθαρίζουν μισό εκατομμύριο ευρώ κάθε Κυριακή. Πιο πρόσφατο απόκτημά τους και τι εστιατόριο Uno Con Carne που βρίσκεται στη Χώρα της Μυκόνου ενώ έχουν αρχίσει να σαρώνουν και τα διπλανά στο Scorpios οικόπεδα για να τα κάνουν parking. Kαλές δουλειές.
O Scorpios ανήκει στην γερμανική πολυεθνική που έχει στην κατοχή της την αλυσίδα των Design Hotels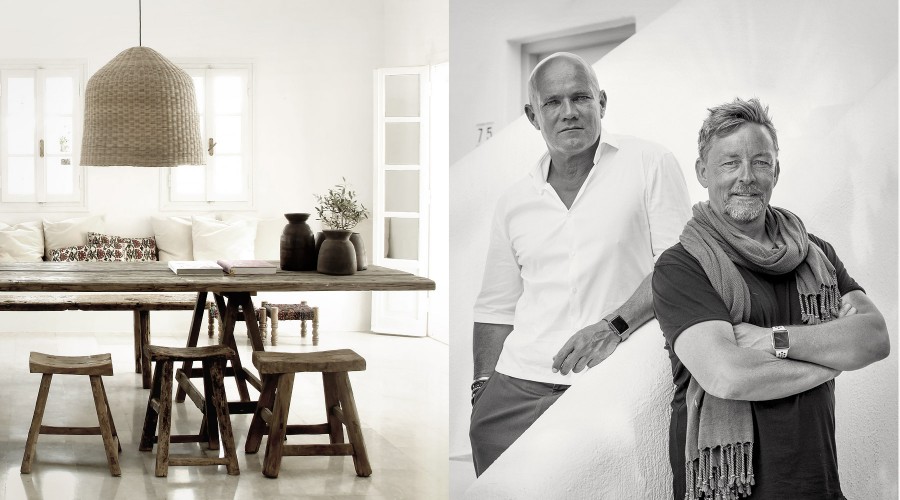 Thomas Heyne & Mario Hertel
The Kings of Mykonos
After nearly a decade running Mykonos' world-famous Paradise Club, Thomas Heyne and Mario Hertel have teamed up with Design Hotels™ to create San Giorgio, a singular destination for likeminded free spirits.
The story of the San Giorgio project truly begins some 15 years ago, in the mid-1990s, when two young, small-town Germans who didn't quite fit in back home, met on the shores of Ibiza. Thomas Heyne was a former real estate student from Augsburg who had turned down a lucrative career in construction to run a nightclub in Ulm, flying in DJs and dancers from Amsterdam's legendary It Club at a time when house music was far from the mainstream in southern Germany. Fellow Bavarian Mario Hertel had opened up a café in Bayreuth when he was 18 and eventually built up his own mini hospitality empire—a clutch of restaurants, bars, cafes, and clubs that were all a bit racy for their starchy surroundings. 

"Mario did exactly the same thing in his town as I did in mine," says Heyne, who recognized a kindred spirit.
"What is luxury? Luxury for me is to say, okay, I'm doing what I really want to do."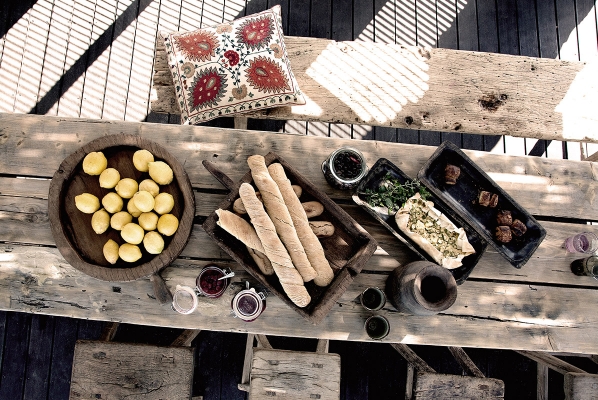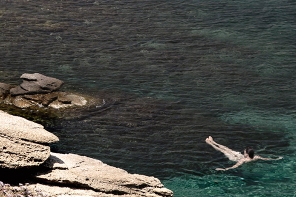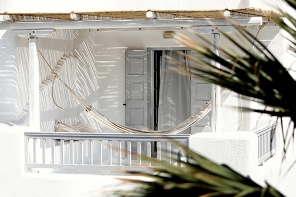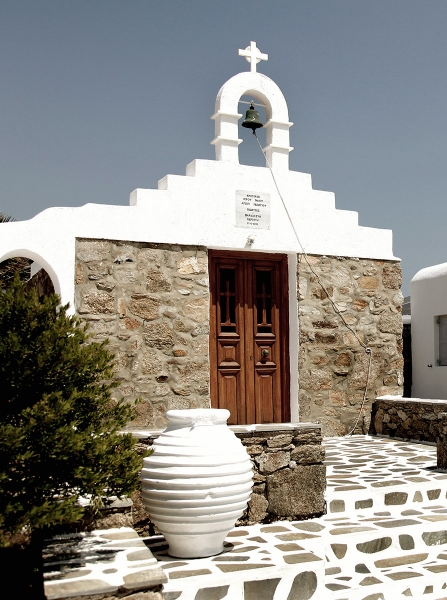 The two became instant friends and though they were running businesses in separate towns, spent the next decade traveling together and trading ideas. Yet by the early 2000s, both men had grown frustrated by the turbulence of the industry and the perpetual pressure to compromise their creative vision. Around the same time they both sold off all their holdings. Heyne began taking job interviews, while Hertel looked southward: "I said, this summer I will do Greece. I will do Mykonos. I will do this big party just for fun."
Hertel rented a 50-meter-long military boat and loaded it with friends, mostly DJs, promoters, and dancers. They arrived on the island and spent the summer sailing from beach to beach, throwing giant parties that would spill out of the boat onto the shore. This caught the eye of the owner of Paradise Club, who wanted to reinvigorate the struggling nightspot. He gave Hertel a trial run throwing a party, and it was a roaring success.
Heyne was on the verge of accepting another job offer when he got a phone call. Hertel had been asked to take over Paradise Club, and he wanted Heyne to come join him. Though both had sworn off the nightlife business, it seemed that Mykonos—the holiday paradise of full moon parties and glittering sand—offered something different. 

"The whole spirit is different," says Heyne. "It's open air, the stars. Go five steps and you're standing in sand. Everybody comes here on holiday—they're in a good mood. Mario and I, in our towns, we were just too far ahead. I opened the first sushi restaurant in my town. We were the first in our towns to play house music in clubs. At the time, people didn't understand it. We thought that in Mykonos, maybe we won't have to compromise our ideas. Here, maybe we can do it. And we did it—we did exactly what we wanted."
Heyne and Hertel took over Paradise Club in 2004, ultimately transforming it into one of the most popular nightclubs in the world. Today, big-name DJs like David Guetta and Moby regularly appear on the lineup. But back when they were just starting, Heyne would fly around the world, searching for young, up-and-coming talent.
"This is one of the main things if you want to survive in our business," says Heyne. "You have to really scout the talent and have the balls to book them even when they're not famous. We really saw the potential of some of these DJs and created very positive relationships with them, so when they got big they stayed with us."
By the end of the decade, the pair had reached a certain pinnacle, but then the owners of San Giorgio, a charming but rundown hotel 300 meters from Paradise Club, approached them about running it. 

"Everybody who knows me knows that my dream—and also Mario's dream—has always been to have a hotel," says Heyne. He and Hertel rented the property, but they knew that this time they'd need help. And they knew exactly who to ask: Heyne's longtime friend and fellow Augsburger, Design Hotels™ CEO Claus Sendlinger. 

Though Sendlinger had his hands full at the time with the Papaya Playa Project, the company's first pop-up in Tulum, Mexico, he was intrigued, and he sent over several members of the Design Hotels™ family, including designers Michael Schickinger and Annabell Kutucu. Soon the newly assembled team had remade San Giorgio as a gorgeous testament to holistic design, bohemian-inflected luxury with organic pieces like raw wood chairs, weighty cotton matelassé quilts, and traditional Greek woven-top stools.
Light and air dominate within the 33 guestrooms, shimmering over polished cement counters in the open-plan kitchen and throughout the alfresco lounge and deck that look straight out to the ice-blue Aegean. The result was so exquisite, that San Giorgio not only became an official Design Hotels™ member; it was embraced for the summer of 2012 as the company's second temporal hospitality project.
"Design Hotels™ is just perfect for us because we speak the same language," says Hertel. "We've made the hotel this place where you walk around and you feel at home—you feel like part of the family. Which is actually the same thing we were always trying to do with the club, where you step in and you feel at home."